On February 6, 2020, PCV Murcor recognized employees for their exemplary work over the 4th quarter of 2019. Awards presented included the Margaret Murray Award, Employee of the Quarter award, and years of service recognition. PCV Murcor President and CEO, Keith Murray, was on hand to present the honors to the respective employees. The following employees were honored in front of their peers:
Margaret Murray Award
The Margaret Murray award went to Felipe Fregoso, Operations Manager in Vendor Relations.
Felipe is responsible for managing Vendor Support, compiling all scorecards, and completing several monthly production reports. His expertise in operational processes and procedures has enabled him to think of ways to automate processes, making day-to-day job functions more efficient.
"In my time here at PCV, I've quickly recognized Felipe as one of the hardest workers I've ever known," said Cherie McMullen, PCV Murcor's Senior Operations Manager. "He is PCV through and through, giving 110% effort on major projects and the smallest of tasks alike. According to Felipe, 'It's the right thing to do.'  He is an expert in our reporting systems, and is the go-to source on the team for production reporting questions."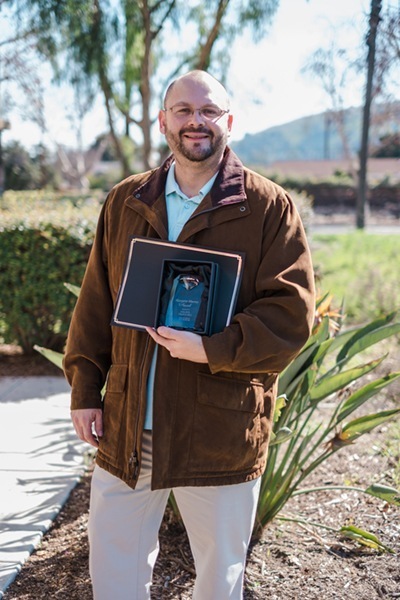 Felipe Fregoso, Operations Manager
The Margaret Murray Award honors the grandmother of our CEO, Keith Murray, she instilled in him the values of hard work and determination. Her life and the way she led it, is the reason why this special award is named after her. Mrs. Margaret Murray taught her grandson that it is not just what you do, but it is also how you do it.
Employee of the Quarter Award
For the first time in PCV's history, a three-person nomination was submitted and selected for this award. The award went to Joanna Pavon, Project Manager, Diep Dang, Developer, and N Chiu, Network Engineer, all in IT.
All three worked closely with PCV's Legal team to ensure compliance with a major privacy law that became effective in California on January 1, 2020. It was noted, "they were responsive when changes were identified and worked closely with Legal to complete tasks quickly and thoroughly, all the while maintaining an exemplary 'can do' attitude. When faced with tight timelines and roadblocks, they remained positive, upbeat, and more than ready to jump in and get the job completed."
Employee Service Awards
The following employees were recognized for their work anniversaries:
Russell Lewis
Chief Information Officer
15 Years of Service
Anthony Morales
Production Associate I
1 Year of Service
Congratulations to all of the recipients, PCV Murcor values your effort and dedication!